Report
Verstappen overcomes wet-weather chaos to make it a hat-trick of Dutch GP wins and equal Vettel's victory record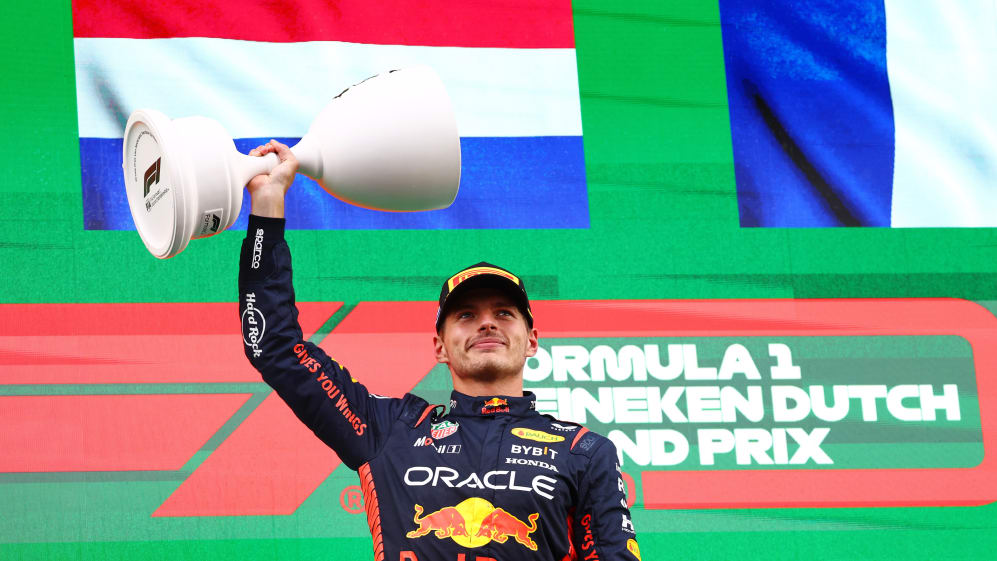 Max Verstappen converted pole position into victory at the Dutch Grand Prix for the third year in a row, navigating an action-packed, rain-hit encounter to take the chequered flag ahead of Fernando Alonso and Pierre Gasly and draw level with Sebastian Vettel on nine successive F1 wins.
It all began with spits of rain before the start of the race that dramatically turned into a shower on the first lap, prompting split strategies up and down the order as Verstappen headed a pack of drivers who initially stayed out on slicks and team mate Perez led a group into the pits to take on intermediates.
What followed was a frenetic opening phase as those who made an early switch to intermediates rose to the fore, while those who stayed out longer on slicks lost a hatful of positions, prior to the rain easing off and the track gradually drying up.
With the Red Bulls running those aforementioned alternate strategies, it was Perez who led the way as the race settled down, while Verstappen had fallen back to fourth – behind Zhou Guanyu and Gasly – and had work to do to reclaim P1.
After managing to do so with much superior pace, Verstappen looked set for a clear run to the chequered flag and the win on a bone-dry track, only for further rain to work its way onto the radar and hit the track with force in the closing stages.
FORMULA 1 HEINEKEN DUTCH GRAND PRIX 2023
Netherlands
2023
Race results
POSITION
TIME
POINTS

1

Max

Verstappen VER

Red Bull Racing

2:24:04.411

25

2

Fernando

Alonso ALO

Aston Martin

+3.744s

19

3

Pierre

Gasly GAS

Alpine

+7.058s

15

4

Sergio

Perez PER

Red Bull Racing

+10.068s

12

5

Carlos

Sainz SAI

Ferrari

+12.541s

10
That led to another flurry of pit lane activity, and a red flag after Zhou crashed out, bringing a seven-lap dash to the flag when the action resumed and serving up one last test for reigning double world champion Verstappen to overcome.
Overcome it Verstappen did as he kept his cool at the slippery restart and managed the gap back to Alonso and Perez with aplomb, confirming his hard-fought triumph and equalling Vettel's victory record that has stood since the 2013 season.
Alonso's second-place finish marked his first podium since Canada more than two months ago, while Perez crossed the line in third but was hit with a five-second time penalty for speeding in the pit lane, promoting a delighted Gasly – who had started 12th – to the rostrum.
Perez had to settle for fourth after his sanction, followed by the Ferrari of Carlos Sainz and Mercedes of Lewis Hamilton, who were involved in a late, wheel-banging scrap, as Lando Norris, Alex Albon, Oscar Piastri and Esteban Ocon completed the points.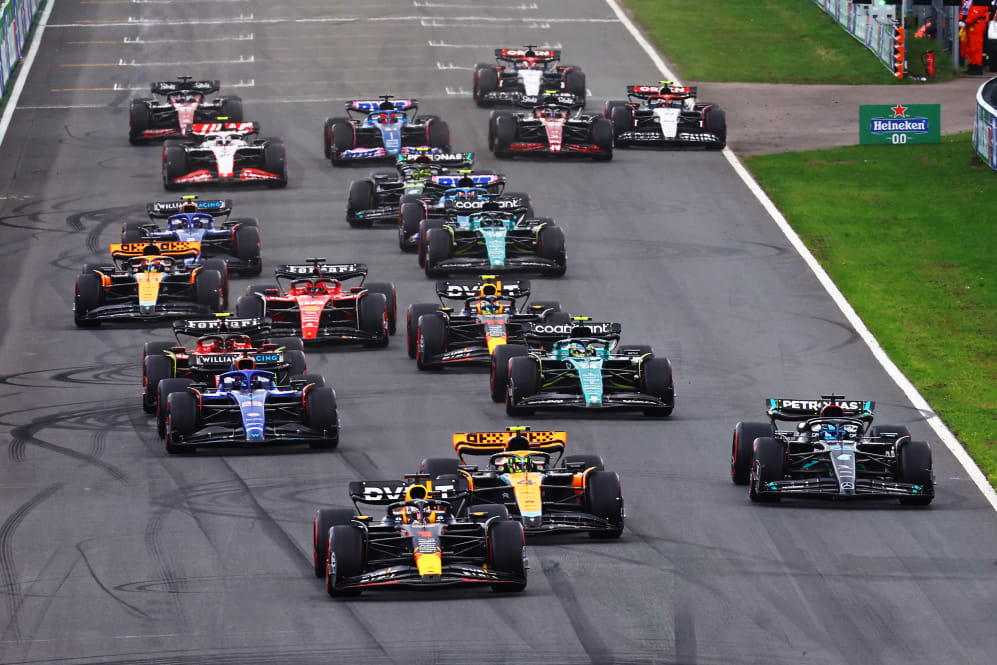 Lance Stroll just missed out on a top-10 finish in the other Aston Martin, followed by Nico Hulkenberg, F1 newcomer Liam Lawson and Kevin Magnussen – the AlphaTauri driver given a 10-second penalty for impeding the Dane in the pit lane.
That moment aside, it was a strong debut performance for the 21-year-old New Zealander, who otherwise stayed out of trouble and kept his car on the track, finishing three spots up on team mate Yuki Tsunoda, who took a five-second penalty of his own for causing a collision with George Russell.
Valtteri Bottas was the only Alfa Romeo to finish after Zhou's crash, taking 15th from Tsunoda and Russell, the latter losing what would have been a points finish after contact with Norris during the final dash to the flag.
Joining Zhou on the sidelines were Charles Leclerc due to damage picked up on the first lap that ultimately proved too challenging to race on with, and Logan Sargeant, who followed up his qualifying crash with another heavy shunt.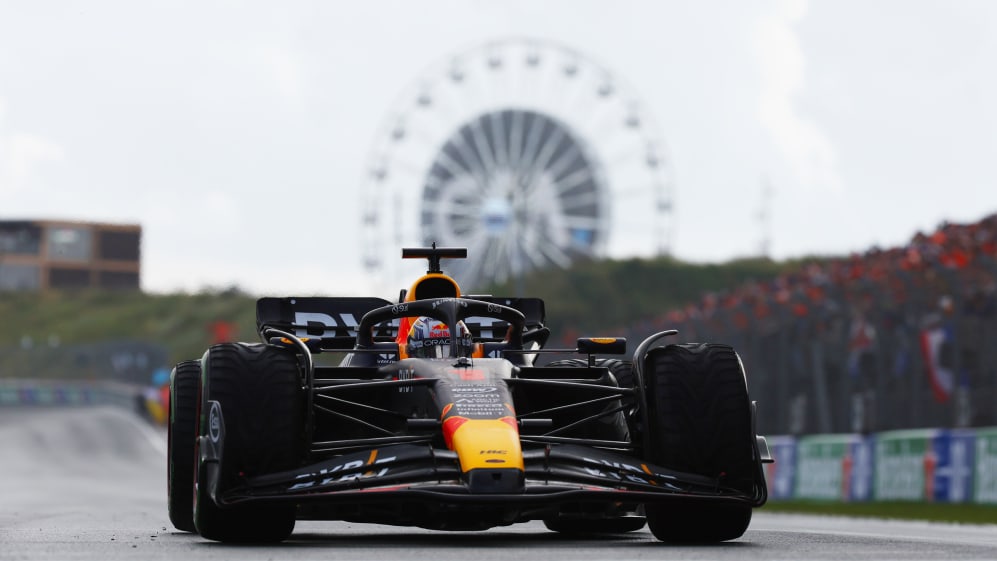 AS IT HAPPENED
After a rain-affected final practice and qualifying, all eyes were on the skies as the F1 paddock returned to Zandvoort for race day, with early showers clearing to leave a dry track ahead of the start – albeit dark clouds still lingering above the Dutch venue.
A couple of changes to the starting order saw Tsunoda demoted from 14th to 17th – promoting Hulkenberg, Zhou and Ocon – for impeding Hamilton in qualifying, and Magnussen moved from 18th to the pit lane via a host of power unit and gearbox changes.
That meant a spot gained for F1 debutant Lawson, who was thrown in at the deep end in place of the injured Daniel Ricciardo at AlphaTauri and qualified last – the 21-year-old New Zealander getting himself strapped in for 72 demanding laps with limited wet running under his belt.
Shortly before lights out, and with spits of rain in the air, it was revealed that 18 of the 20 drivers would be starting the race on soft compound tyres – Hamilton and Hulkenberg bucking the trend by opting for the medium rubber.
When the action began, pole-sitter Verstappen made a clean getaway to retain his advantage into Turn 1, slotting in front of Norris, Albon, Russell and Alonso, before the latter pulled a brilliant double move on the two British racers on the low line at the banked Turn 3.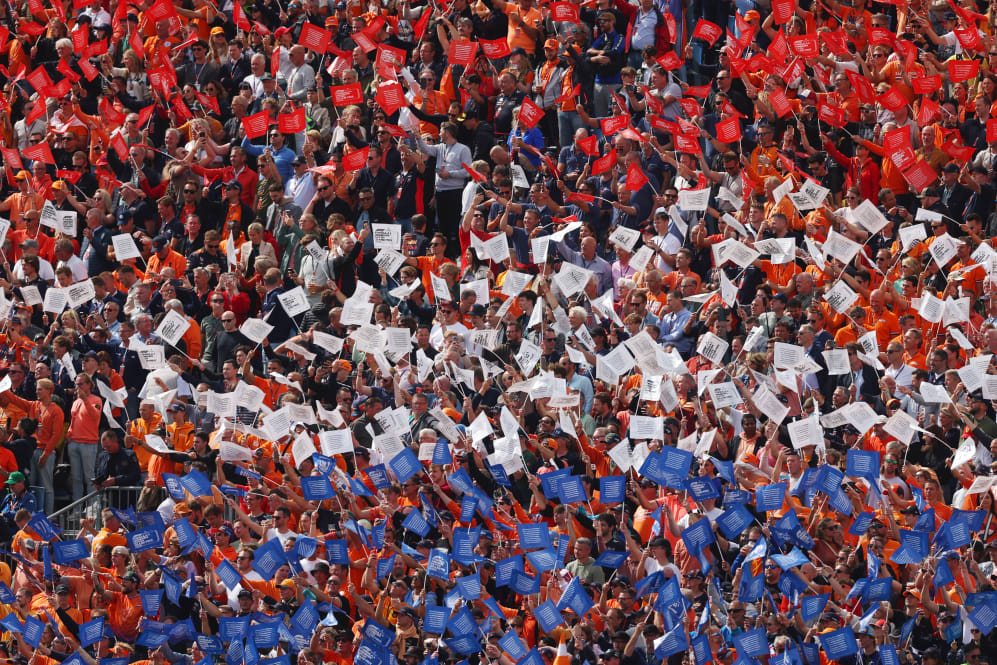 But the spits of rain suddenly turned into a full-blown shower, with Perez, Leclerc, Gasly, Zhou, Tsunoda, Lawson and Magnussen pitting immediately to swap their slicks for intermediates – Ferrari caught out as they scrambled to get their tyres ready.
"If you can live with it, stay out," was the message to Verstappen, before being told to prepare to pit a few seconds later, as the home favourite crawled around in front of Alonso, who had also got the jump on Norris, with Russell holding fourth from Albon and Sainz.
While the majority of drivers had pitted to swap tyres, Russell, Norris, Albon, Piastri, Stroll, Bottas, Hulkenberg, Hamilton and Sargeant stayed out on slicks for another lap, with the intermediate runners charging their way through the field and Perez soon moving into the lead.
By Lap 3, only Russell, Albon, Piastri, Stroll, Bottas, Hulkenberg and Sargeant were still running slicks, tumbling down the order in the process, leaving Perez with a 12-second advantage over Zhou, Gasly and the pole-sitting Verstappen.
Verstappen was on a charge, though, clearing Gasly and Zhou in quick succession to climb back up to P2 and set his sights on team mate Perez, who sat some 10 seconds clear after his inspired early pit call.
With the dust settling on that drama, it was now a Red Bull one-two at the front, with Verstappen rapidly closing on Perez, as Zhou sat third from Gasly, Alonso and Sainz, the Spaniard managing to clear team mate Leclerc who was struggling with some front wing damage picked up in first-lap contact with Piastri.
Tsunoda held eighth despite a slow pit stop, while Magnussen highlighted just how much ground could be gained in the tricky conditions as he rose from the pit lane to run ninth, with Norris in the final points-paying position.
There were second stops for Magnussen, Hamilton and Stroll on Lap 11, however, as they swapped back to slicks from intermediates, despite Russell being told that another shower was due to hit the track in a matter of minutes.
With Piastri – one of the drivers to stay out on his starting set of softs – lighting up the timing screens as the track gradually dried up, it was not long before the rest of the field traded their overheating intermediates for slicks.
Crucially, Verstappen pitted a lap earlier than Perez on the 12th tour to overhaul his team mate in the pit lane, prompting some questions from the Mexican on the radio as he settled into second place, some three seconds adrift.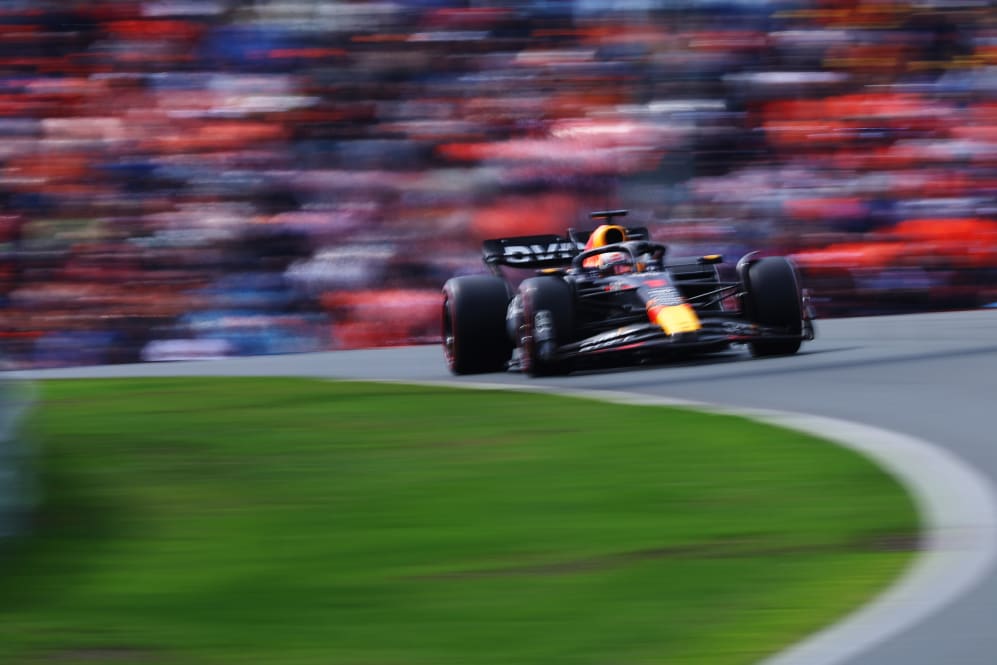 Just as the race was settling down again, despite further spits of rain, Sargeant lost control of his Williams at the exit of Turn 8 and slammed into the barriers, prompting a Virtual Safety Car and then a full Safety Car as the shaken American radioed his confusion at what had happened.
As the field arrived at the rear of Bernd Maylander's Aston Martin, the top 10 order was Verstappen, Perez, Alonso, Gasly, Sainz, Zhou, Magnussen, Albon (the only driver yet to pit), Ocon and Tsunoda – Gasly clearing Sainz down the start/finish straight after his stop, but then being given a five-second time penalty for speeding in the pits.
Norris found himself back in 11th after starting on the front row, followed by Leclerc, Hamilton and Piastri, who had stopped for a second set of softs, with Russell only 18th and lamenting "how did we mess this up?" over the radio – prompting another stop to hards and seemingly an attempt to reach the chequered flag without another stop, weather permitting.
With 21 of the scheduled 72 laps down, the Safety Car peeled in and the race resumed, Verstappen nailing the restart to hold onto his lead while Perez defended boldly from Alonso and Gasly did just enough to keep Sainz behind him.
A moment for Piastri saw him fall behind Bottas and drop to 15th, while Albon found a way past Magnussen for P7 after a scary moment on the start/finish straight where the Williams man was less than amused by the Haas' change of direction to initially hold position – leading to the Dane being given a black-and-white flag.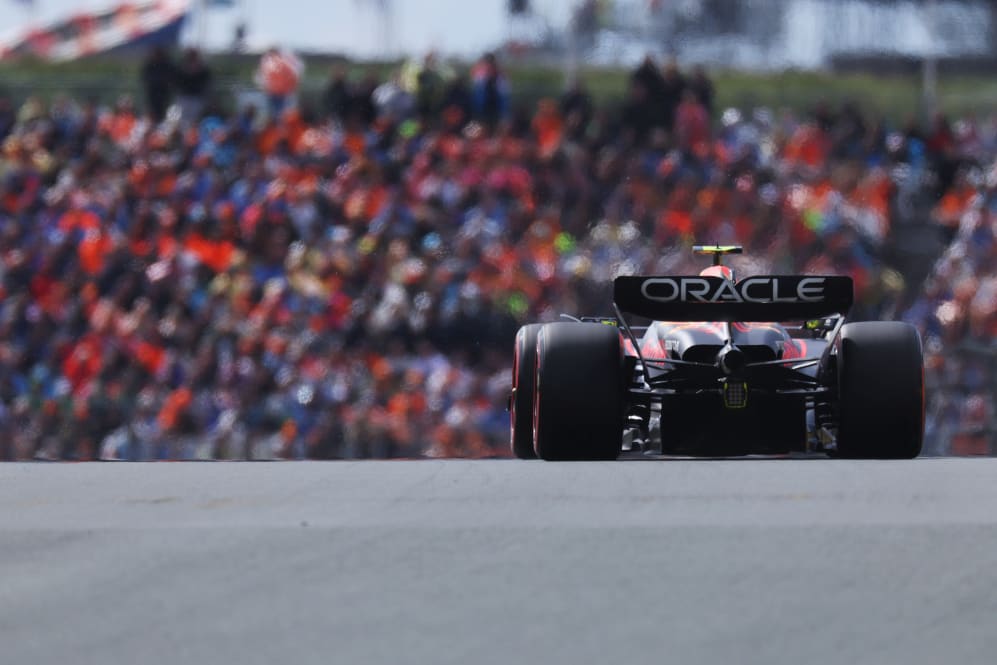 The action continued to come thick-and-fast over the following laps as Ocon got the jump on Magnussen, Tsunoda and Zhou, while Piastri made up for his mistake to reclaim P14 from Bottas into Turn 1, before both the Australian and Hamilton dispatched Leclerc.
By Lap 27, Verstappen's lead over team mate Perez was up to three seconds, with Alonso still running in third from Gasly, Sainz and Albon, who had Ocon rapidly closing on him, as Zhou, Tsunoda (another to be given a black-and-white flag) and Norris – via a move on Magnussen – rounded out the points.
"Darker clouds are coming in," reported Verstappen, as the race edged towards its halfway mark, before a similar message went in Leclerc's direction confirming that further spots of rain and another shower were making their way toward the track.
A couple more changes to the top 10 positions came when Norris and Hamilton both found a way past Zhou, while Magnussen's demise continued as he dropped back to 13th, ahead of team mate Hulkenberg – Haas again struggling for race pace.
As the race hit the 40-lap mark, Verstappen led Perez by almost seven seconds, with Alonso four seconds further back in third, as Gasly ploughed on in fourth – with his time penalty hanging over him – ahead of Sainz and Albon.
Further back, there was some brilliant, wheel-to-wheel action between Leclerc and debutant Lawson, who traded positions on several occasions, only for Ferrari to call the Monegasque into the pits to retire shortly afterwards due to floor damage.
Norris and Sainz kicked off the next sequence of pit stops on Lap 43 and 44 respectively, before Albon finally ditched his starting set of softs on Lap 45, as attention then turned to when Verstappen and the rest of the front-runners would come in.
While Perez boxed on Lap 46, leader Verstappen extended his stint for four more laps, with no dramas for either Red Bull driver, but the same could not be said for Alonso, who lost out to Sainz due to a sticky front-left tyre.
After those stops, Verstappen still led comfortably from Perez, with Sainz now holding the final podium spot ahead of a recovering Alonso, Gasly, Tsunoda and Russell, who gained plenty of spots after his early switch to hard tyres. Albon was still in the points in P8, along with Ocon and Norris.
It did not take Alonso long to recover P3, breezing past Sainz down the start/finish straight, with Russell doing the same on Tsunoda a few moments later to rise to sixth position and set about catching fifth-placed Gasly.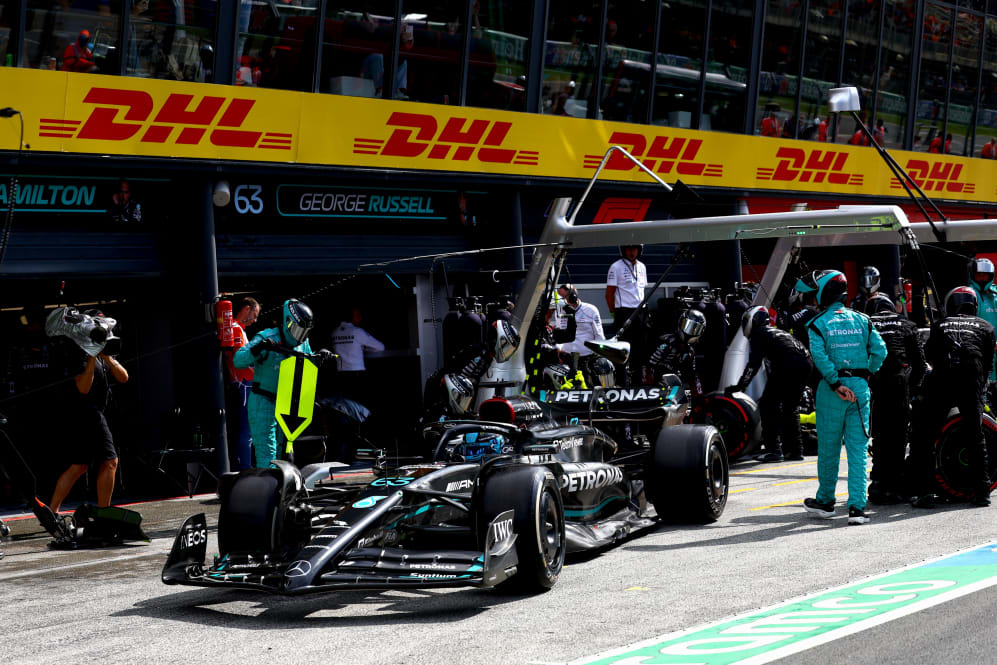 Tsunoda would soon drop out of the points, falling behind Ocon and Norris, as the Japanese racer reported damage over the radio and stewards confirmed they were looking into an incident involving him and Russell.
With around 15 laps remaining, Verstappen was told that more rain could arrive in the final 10 minutes, some of which could be heavy, while Hamilton made progress in the other Mercedes to pass Norris and Ocon for P8.
Hamilton soon arrived on team mate Russell's tail, with the younger Briton moving aside after saving a huge slide through the high-speed sweeps, as Gasly got the jump on Sainz around the outside of Turn 1 to move up to fourth.
On Lap 61, the predicted rain suddenly arrived, prompting the majority of the field to immediately dive into the pits and swap their slick tyres for intermediates – Verstappen, Alonso, Albon and Ocon the front-runners to stay out longer.
Following the stops, with Ocon the only driver to take on full wets, Verstappen remained in P1 from Perez, only for his team mate to go too deep at Turn 1, suffer a half spin and lightly touch the barrier, allowing Alonso to slip ahead.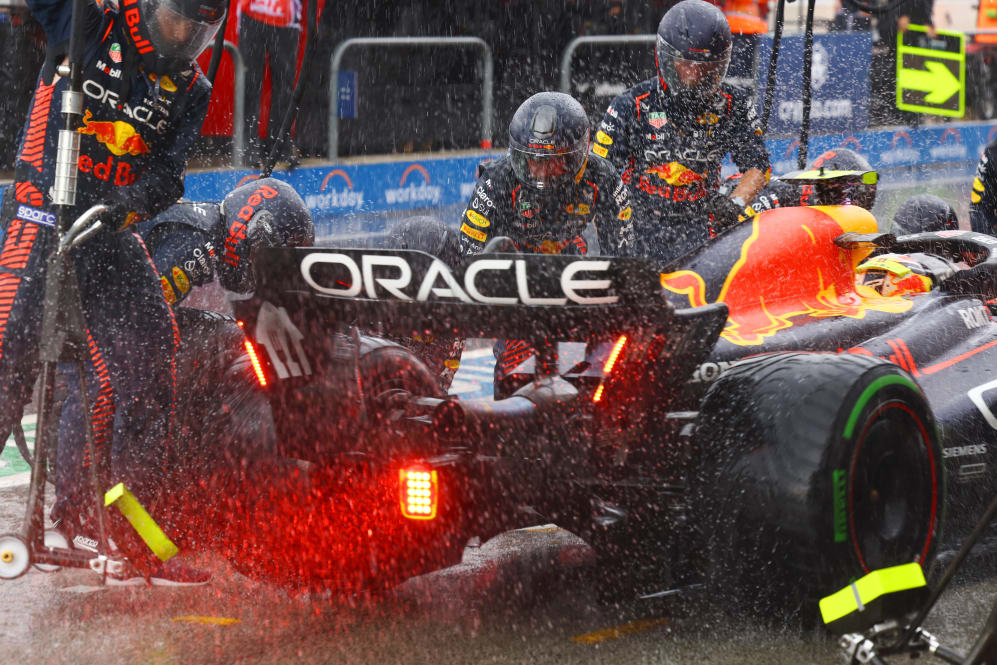 With the rain lashing down, Zhou slid off the track approaching Turn 1 and brought out the Virtual Safety Car, prompting the Red Bull pair to pit for full wet tyres – Perez brushing the pit wall in the process – just before the VSC turned into a red flag on Lap 65.
That looked set to prove costly for Perez, who was in the pit lane when the red flag came out and dropped down to sixth on the timing screens, behind Gasly, Sainz and Hamilton, who also had a moment at Turn 1 when he skated through the gravel.
However, a message from Race Control stated that Perez would be third in the restart order, behind Verstappen and Alonso, with Gasly set to filter in fourth from Sainz, Hamilton, Norris, Russell, Albon and Piastri.
Separate bulletins confirmed a five-second time penalty for Tsunoda for causing an incident with Russell and a 10-second sanction for AlphaTauri team mate Lawson due to "unnecessarily impeding" Magnussen in the pit lane.
After a 40-minute delay, the remaining 17 drivers headed back out on mandated intermediate tyres for a rolling start, and two laps behind the Safety Car, after which Verstappen controlled proceedings to retain the lead over Alonso and Perez.
There would be further drama for Perez, though, with stewards handing him a five-second time penalty for speeding in the pit lane, while Russell briefly managed to get ahead of Norris and run P7, only for the pair to collide and the Mercedes man to pick up terminal damage.
With three laps to run, Verstappen led Alonso by 1.2 seconds, with Perez a second further back in third, but Gasly looked set to profit from the aforementioned penalty in fourth, ahead of Sainz, Hamilton, Norris, Albon, Piastri and Ocon.
Despite everything that was thrown his way, and the pressure of the home crowd lining the track all weekend long, there would be no stopping Verstappen has he chalked up a record-equalling ninth straight win and 11th from 13 races so far this season.
Alonso held on for second, bagging the Driver of the Day award in the process, while Perez's penalty promoted Gasly to third and his first full podium of the season, having finished third in the Sprint race at Spa-Francorchamps last time out.
Sainz beat Hamilton to fifth after a close battle in the closing laps, while McLaren duo Norris and Piastri sandwiched the Williams of Albon and Ocon rounded out the points, giving Alpine a welcome double points finish after their recent managerial changes.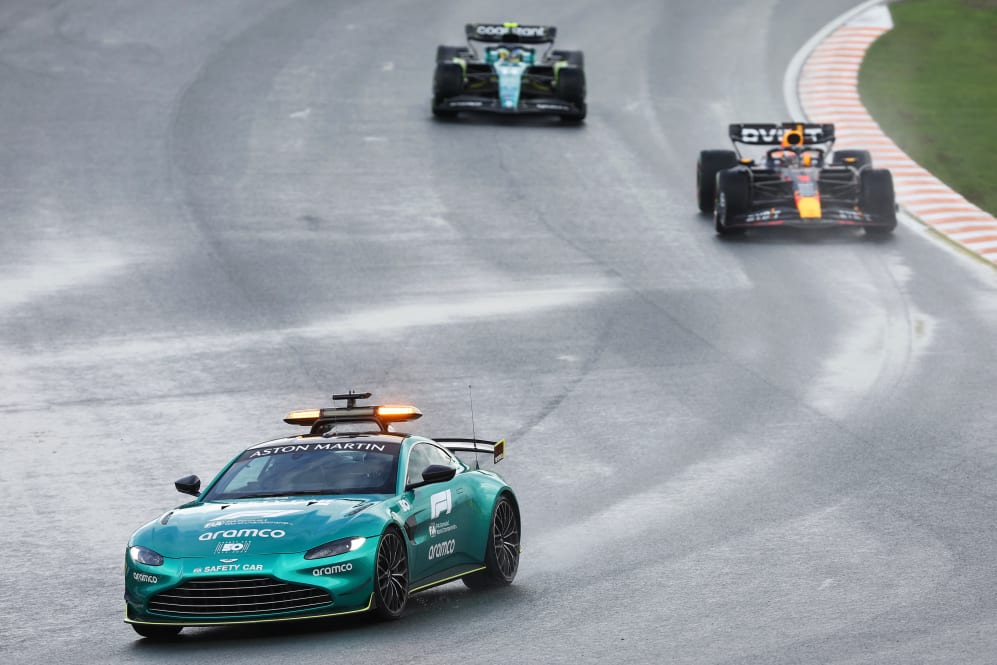 Stroll was unable to emulate two-time world champion team mate Alonso as he came home 11th, followed by Hulkenberg, Lawson and Magnussen – F1's newest driver building up useful experience ahead of what could be another outing at Monza.
After the chequered flag, another note from Race Control confirmed that Magnussen was under investigation over a potential restart infringement, meaning the Haas man may well be shifted down the order later in the evening.
Bottas had a quiet race en route to 15th, with Tsunoda and Russell – the Mercedes driver left to rue contact with Norris as they battled over seventh at the late restart – the final drivers to finish in 16th and 17th respectively.
Zhou, Leclerc and Sargeant were the three drivers on the sidelines as the race drew to a close, thanks to the aforementioned crashes for the Alfa Romeo and Williams men, and floor damage for the Ferrari.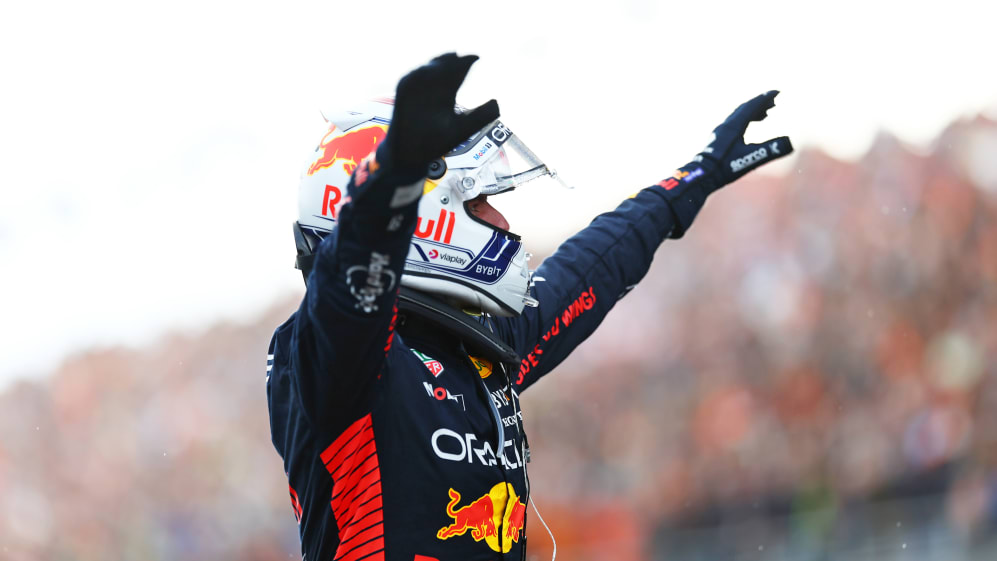 Key quote
"It's incredible," said race-winner Verstappen. "Also today, they didn't make it easy for us with the weather, to make all the time the right calls. I'm incredibly proud. I already had goosebumps when they were playing the national anthem before the start. Even with all the bad weather, the rain, the fans were still going at it, so an incredible atmosphere."
What's next
The next stop on the 2023 F1 calendar will be Monza for the Italian Grand Prix weekend, which takes place from September 1-3.